When the Fool Killer submarine was discovered in the river in late 1915, there were conflicting reports as to how old it was. Most newspaper reports said it had first appeared in the lake/river around the early 1870s, though no reference to it from those days has been found yet. Many then said it had sunk around the time of the fire (1871) and reappeared in the 1890s, when it sank again. One regional paper, picking up on the story from the Tribune, even said it had claimed a number of victims around the time of the world's fair (1893).
Not much to back this up has been found – it was probably all a batch of mistakes. It seems odd that such a device wouldn't have made the news in the 1870s – but it didn't, as far as I can find.
It's possible that they were simply confusing it with ANOTHER submarine that was being tested in the lake in 1892. In fact, there were a couple being put to the test around the lake at that time – one of them, built by George C. Baker, was fairly easy to confuse for the foolkiller. In the "above the water" shot, it looks just about like the same ship, and, at 40 feet, was about the same size: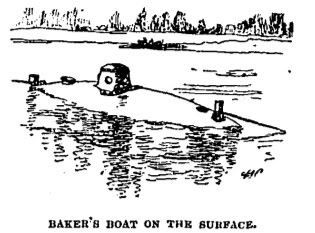 I'm not sure whatever happened to that sub – anyone know? However, when you look at the shot of the whole thing, it's clearly not the same sub as the foolkiller. Not nearly cylindrical enough:
That the fool killer submarine was built by Lodner Darvantis Phillips in the 1840s/1850s is still probably the best theory out there, though the only thing that really backs it up is Phillips family lore. And the fact that there were only so many submarines that COULD have been sunk in the river as of 1915.
Our upcoming book (available this summer – keep watching!) will have the biggest section ever published on the Fool Killer! The idea that any new information on it is going to come to light seems unlikely to me at this point, but who knows? I'm still holding out hope that it'll turn up in some warehouse, like the one from end of Raiders of the Lost Ark, one of these days.
(Visited 140 times, 1 visits today)