Kim Hartley has sent in a few possible ghost pictures from the Friday night tour that are cool enough to warrant a post here. Here is our standard ghost picture disclaimer:
DISCLAIMER: Chicago Unbelievable never claims any ghost picture to be "authentic." There are always other explanations for weird photos, ranging from weird camera issues to simple optical illusions. There is no such things as GOOD ghost evidence, only COOL ghost evidence – we post these as examples of the latter.
Anyway, with that in mind, here's a shot from the basement of the former funeral parlor where some see a vague, humanesque form at the right. I can see what they're looking at, but, as sometimes happens, it looked more distinct on the LCD screen. I've messed with the brightness and contrast a bit in attempt to make it more distinct:
And two from inside the windows at Hull House that appear to show faces behind the curtains. There are MANY ways to get a "ghost picture" that's really just an optical illusion at this place, but, on the other hand, I've had more kids than I can count say that they've seen a woman in these two windows, and the curtains were moving around a lot on this particular night – more than they normally do from the air vents. No adjustments have been made to these ones. What do you think? See anything?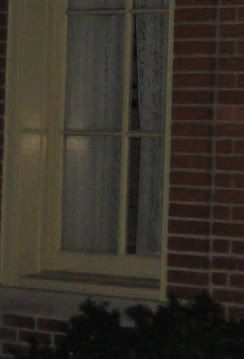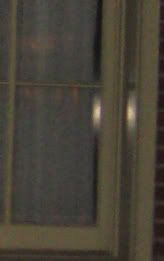 (Visited 257 times, 1 visits today)