One of our ongoing tasks here at Chicago Unbelievable is getting to the bottom of the whole H.H. Holmes story. There's a lot we don't know about him, and what we DO know tends to be based on hearsay and speculation. Some of it is probably nonsense (in particular, I rather doubt that he had a rack in the basement of the murder castle with which he planned to "create a race of giants," which is a story that goes around a lot. The guy WAS a doctor. He was a maniac, but he wasn't an idiot).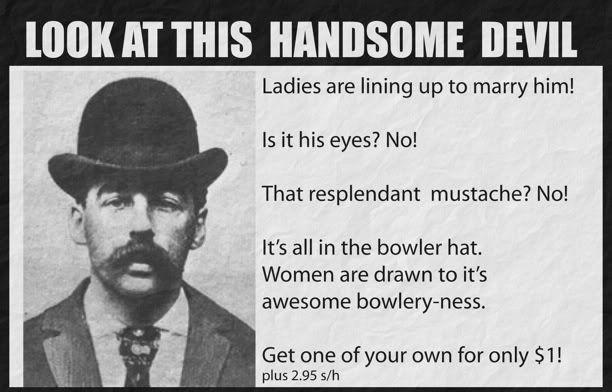 We're never going to know the whole story of the guy – he was AWFULLY good at covering his tracks, and we'll never know what all of his aliases were – or, therefore, where all his buildings were. The infamous "castle" wasn't the only building he ever used; ghere's a whole section in our book about his north side haunts (one of which is a regular stop on our tours). He must have been a really busy guy, given the multitude of businesses he ran and schemes he hatched. Of course, he wasn't always a hands-on manager; he appears to have been seldom-seen at the candy store he owned.
But he was a regular at his office in the loop.
For a time, he ran a downtown business called the A.B.C. Copier company – the A.B.C. copier was a device for copying architectural drawings. It may have been an odd device – it involved gasoline – but it worked as advertised. Naturally, though, Holmes couldn't resist using it for swindles. He bought his interest in the company with worthless notes. Besides selling the device, he sold "territories" for perspective ABC Copier entreprenuers. He re-sold the territories as often as possible. When the business failed, Holmes ditched the offices, stealing 50 gallons of glycerine (which he probably used to make nitroglycerine) in the process.
One of the stenographers was Katie Durkee, whom Holmes claimed to have murdered in his "confession." A bit of a hitch here was that Durkee was still alive; when she read the confession, she marched to the nearest person who would listen to state that she had never been killed "by Holmes or anyone else." Holmes partner in the business accused him of murdering Gertrude Conner, the sister of Ned Conner, who worked at the castle. Workers excavating the castle cellar in 1895 thought they found her body, along with those of Julia, her sister-in-law, and Pearl, her niece. When the partner accused Holmes of the murder to his face, Holmes replied "Bah! What makes you say that?"
The whole "gang" from the castle seemed to be involved with the business. Patrick Quinlan, the janitor of the murder castle (and a probably Holmes accomplice) also worked at the copier company. One of the Williams girls (Minnie, one of Holmes wife, or Anna, her sister) was also thought to work there.
The office of the company was in Custom House Place – a bit of a levee district that is now Printer's Row. Specifically, it was in the Monon Building, the world's first modern 13 story skyscraper at what would now be 436-444 S. Dearborn, across from the still-standing Manhattan building. It was torn down in 1947 to make way for Congress Street to expand.
The location gave Holmes easy access to the multitude of nearby whorehouses, but given his numerous wives and girlfriends, it seems hard to believe that he had TIME for whoring. The office there was most active around late 1890 through 1891, when the business went under.
Overall, I've been able to document about a hundred places around Chicago to which Holmes can be traced, primarily businesses in the loop that he swindled, as well as some lawyers' offices, some offices he ran himself, etc. Only a tiny handful are still standing.
More info on Holmes's activities in the Loop are in the new book:

And, of course, there's also our collection of primary source material on his famous "castle" on the south side:

Just 3.99 on Kindle!
Don't have a kindle? No problem! Get aFREE Kindle App for Your Smartphone, Tablet, or PC!
(Visited 570 times, 1 visits today)