We've dug up more information that makes us feel that we can now confidently say that the Frank Wilde who owned Frank Wilde's Fruit and Candy Store was actually just an alias for H.H. Holmes, the murder castle builder of newfound "Devil in the White City" fame. The location of the place was variously given as 1151 or 1152 Milwaukee in the Tribune, but other papers went with 1151 and it seems as though 1152 was never an actual address. After the 1909 renumbering, that would put the location of H.H. Holmes' candy store at what is now 1513 N. Milwaukee.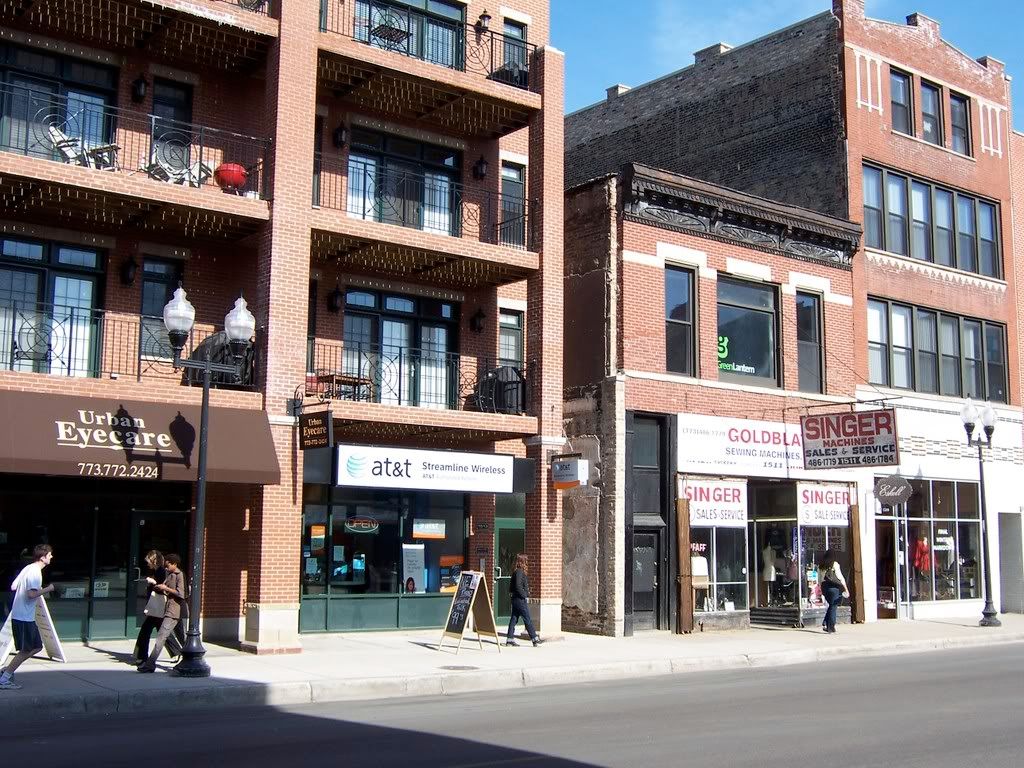 See where the AT&T building is? It would have been right there. The building itself is, like just about every Holmes' building, long gone – we're working on a database of all the buildings he rented, owned, or even worked in, and haven't found one (with the possible exception of one wall) in Chicago that's still standing. In descriptions of his buildings, you run across the words "ramshackle" and "rickety" a lot. Not the sort of stuff that lasts a century.
It was at this spot, though, that Holmes seduced -and probably killed – Emily Van Tassel. Not one book on Holmes has quite gotten this story right; most say she worked for Holmes at his murder castle. In fact, she worked at the candy store, having previously been employed by a photographer a few doors down. She lived with her mother at a Damen street home right about where the Pritzker School is now, across from Wicker Park.
Her mother said that she met Holmes four times, and that she accompanied them on a date once or twice, for long walks and ice cream, but that Emily, who was 16 or 17 and taught Sunday School, was a "good girl" and wouldn't have gone off with him without telling her. She went missing one day, and Mrs. Van Tassel knew what had happened the moment she saw a drawing of Holmes in the papers.
The police questioned her and her neighbors at great length before deciding to believe her, but as of 1895 they were confident that Wilde was a Holmes alias (the 1890 census only exists in fragments, but there's certainly no one by that name in the 1880 or 1900 ones in Chicago). For a time, it was believed that he had stashed her body in the basement of the candy store, but most decided that it was more likely she was taken to the castle, murdered, and disposed of in such a way that would leave no trace. Even more likely, though, she would have been taken to the house and "glass bending" factory" Holmes was in possession of a few blocks North of the candy shop.
(Visited 644 times, 2 visits today)