Even decades after the Chicago courthouse building had stopped being used as a court, after the jail was torn down, and after its days as the "Hotel Hoover" were over, this pile of lumber still sat in the basement: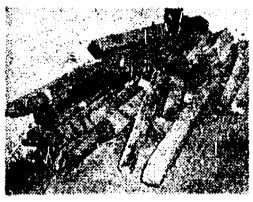 It was the old city gallows. The shot above is how they appeared in 1950; they would remain there more than twenty-five years after that (though they were moved to the new jail at some point)
There was a reason they had to be kept around: one criminal, "Terrible Tommy" O'Connor, had been sentenced to hang before making a daring escape shortly before his scheduled execution. A few years later the city switched to the electric chair, but O'Connor's sentence specified that he had to be hanged within the vicinity of the courthouse and jail, and if they ever caught, they were going to have to do exactly that!
Lawyers and other such geeks enjoyed arguing about what would REALLY happen if O'Connor were caught up through the 70s – few believed that they'd actually hang him in what was, by then, a parking lot. A judge finally ruled that O'Connor was probably dead and that the gallows should be sold to the highest bidder.
O'Connor was never caught, but a picture of him is now up in the lobby of the courthouse building!
For more on the courthouse/gallows in Chicago, see

Fatal Drop: True Tales from the Chicago Gallows by William Griffith(Click for ordering info!)
and check out the courthouse/gallows episode of our podcast
(Visited 187 times, 1 visits today)