The strange history of the Iroquois Theatre (on the site of the current Oriental Theatre) doesn't end on December 30th, 1903, when the theatre burned in what remains the deadliest single-building fire in U.S. history. The building didn't burn down; the exterior was still in good enough shape to stand for another 20+ years, first under the name The Hyde and Behman Music Hall, and then as the Colonial Theatre. Both of those, and the Oriental, have their fair share of strange stories.
In 1909, the Colonial and three other theatres had to be evacuated due to a mysterious odor, described by the papers as "a stench seemingly compounded of all known evil odors," that left both the audience and the actors in a "state of quasi-asphyxiation." In most theatres, the stench was just an annoyance, not something to get alarmed about, but n the Colonial, it "came early and stayed late." According to the Tribune, some said it smelled like fresh paint. Others said it smelled like paint mixed with a bunch of rotten eggs. But "all agreed that it was a compound to remember."
It's tempting go ahead and blame the stench on ghosts – "olfactory apparitions" are among the most common type of ghost sightings, in fact. And they're more reliable than most sightings, since smell is the sense you're least likely to hallucinate. In fact, though, the stench came from "balls" (stink bombs) thrown by audience members – probably theatre bill-hangers, who were on strike at the time and may have been looking to shake things up.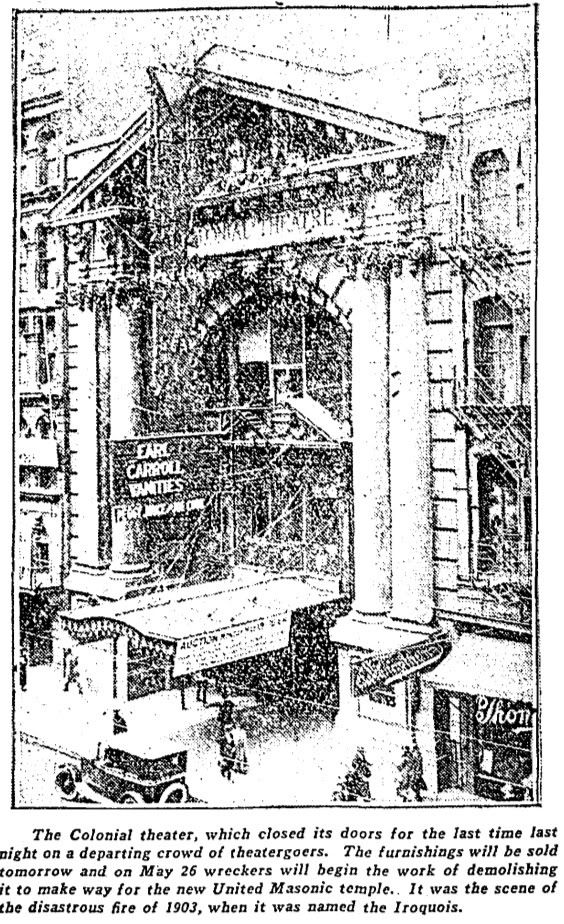 The Colonial, looking almost exactly as it did when it was called the Iroquois, in 1924, when it closed down.
(Visited 91 times, 1 visits today)