Continuing our Dillinger series in honor of Johnny Depp coming to Chicago to start as Dillinger in "Public Enemies," here a bit on our very favorite piece of Dillinger lore.
In the last post, I noted that to break out of prison with an obviously-fake gun, Dillinger must have had balls the size of church bells. Well, that's actually not far off from the legend. Rumors have gone around for years that Dillinger had a 23″ member that is now on display at the Smithsonian. Here's the picture of his corpse that started the legend: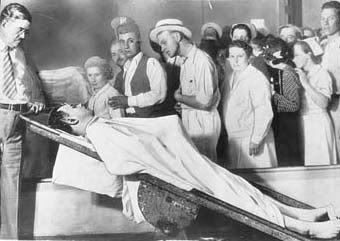 Rigor mortis had set in, causing his arm to be bent at the elbow, creating this tent-like protrusion above his crotch. See how the onlookers (except for that one woman) look awfully impressed? It does indeed LOOK like he's awfully happy to be on the slab.
Once again, if the cast of "Public Enemies" wants to take the best tour in town, we'll be happy to oblige!
(Visited 320 times, 1 visits today)