Sure, this LOOKS like a regular old pile of wood….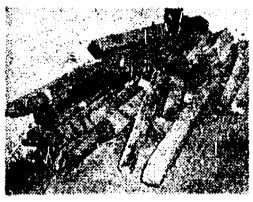 In fact, this is the Chicago gallows as they appeared in 1950.
This particular set was first assembled in the 1880s to hang three guys who had murdered a lemon-cart operator (the kind who are always getting knocked over in urban car chase movies), stuffed his body in a trunk and mailed him to Pittsburgh. A couple of years later, it was expanded to handle to the Haymarket anarchists. It remained in service for decades; inhabitants of the old jail would say that they heard the sounds of it being erected in the middle of the night – even when no workmen were present.
The method of execution was switched to the electric chair in the 1920s, but the gallows had to be kept in the basement of the old courthouse on Hubbard street for half a century, because one man, "Terrible Tommy O'Connor," had escaped from the jail with a death sentence on his head. They had to hang on to the gallows because O'Connor's sentence specified that he be hanged, and if they ever caught him, then by God, they were gonna hang him!
Eventually, in the 1970s a judge ruled that O'Connor was probably dead anyway and ordered that the gallows be sold off. They were sold to a Wild West museum who sold them to Ripley's Believe it Or Not Museum last year. But rumors have persisted that some of the gallows are STILL in the courthouse – along with a handful of ghosts. Stay tuned for more!
For more on the courthouse/gallows in Chicago, see

Fatal Drop: True Tales from the Chicago Gallows by William Griffith(Click for ordering info!)and check out the courthouse/gallows episode of our podcast
(Visited 282 times, 1 visits today)